THE PEOPLE'S GUIDE TO THE VERMONT LEGISLATURE
www.peoplesguidevt.org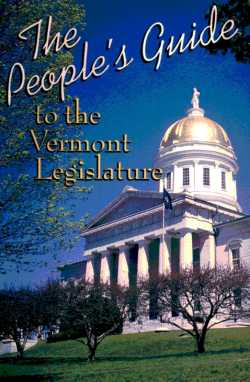 The People's Guide to the Vermont Legislature is a half-hour program designed to encourage Vermonters to participate in their government by making the legislative process easier to understand. Viewers learn why the Legislature is so important, how it is structured, why committees are important, how bills can become law and how to get involved. This show has appeared on WCAX -TV, WCFE-TV, Vermont Public Television and many public access channels. The People's Guide won a Boston/New England Regional Emmy Award in 2002 for Outstanding/Educational Instructional Program. It is also being used in high schools throughout Vermont.

Click here for-->


Resource Guide (.pdf) Teacher's Guide (.pdf)


Legislative Resources-->


Vermont Legislature Home Page Application to Become a Legislative Page


ORDERING INFORMATION:
(VHS OR DVD @ $19.95 plus tax and shipping)

Videosyncracies 1-800-559-0000

Vermont Public Television 1-800-639-7811
This program is closed captioned. The DVD has chapters making it easy to use in a classroom. All programs on VHS or DVD come with a free Resource Guide containing useful information.
PLEASE INQUIRE ABOUT SPECIAL DISCOUNTS FOR EDUCATORS.
To contact the producer: Catherine Hughes 1-802-425-2856 or EMAIL to catherine.hughes@att.net


This project was made possible in part with the generous support of the farmers who own Cabot Creamery and Vermont's Department of Education.
Page last modified 6/11/2006